---
Tribute to Phil Hartman
Phil Hartman died on Thursday, May 28, 1998. Though he was best known for his TV work on NewsRadio, Saturday Night Live, and The Simpsons, he had an earlier career that put him in the national eye if not the national ear. Phil designed album covers back in those glorious vinyl days when album cover art was an integral part of the presentation. One of those lp covers was for the Firesign Theatre's "Fighting Clowns," released in 1980 on Rhino.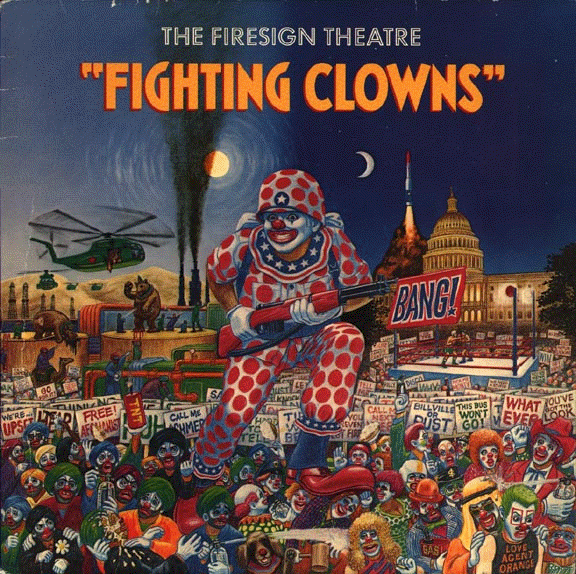 A larger image is at the bottom of the page so you can see the detail.
---
Philip Proctor of the Firesign Theatre wrote about Phil in a recent issue of Planet Proctor. I reprint it here with his permission.
PHIL, THE HEART MAN
He was a gentleman clown. he was a friend to all who worked with him. he kept his troubles to himself. Too much to himself, obviously. I knew Phil over a period of twenty years or so, starting with his work at the Groundlings. His "Chick Hazzard" was a natural; even Rocky liked him. He was a brilliant graphic artist and designed the logo for Crosby Stills and Nash and the cover and poster for The Firesign Theatre's "Fighting Clowns" album. He was a fighting clown.
He was daring but looked so straight. When I saw him doing "To be or not to be" as Jack Nicholson, I knew he was destined for stardom. Soon thereafter, I ran into him at disneyland with his girlfriend, soon to be one of his wives; and he said, beaming, "It's happened. I'm going to be on Saturday Night Live." It had to happen.
His brother, John, helped The Firesign on the rollercoaster course of our career. Another gentleman.
Last time I saw Phil, I was at L.A. Studios to do several spots for MacDonald's. We ran into one another in the kitchen area, hugged and exchanged pleasantries. He was there, he said, to do some Molson's Beer spots for his firstland, Canada. I was truly thrilled to see him again, gave him my card and told him to call so we could set up a listening party for the new Firesign CD. He seemed so happy and so realised. So eternal.
Now, he's gone. But he'll never be forgotten.
He was, and still is, one of the best.
He has immortality.
He has death.
Phil, as noted, not only did the art work for "Clowns" but I commissioned him to develop a "pop-up" sex book in the early eighties, and probably have his hysterical sketches squirreled away somewhere.
What a tragic loss. (Beware the trophy wife.)
Philip Proctor
Planet Proctor

Ladies and gentlemen. . .
Phil Hartman has left the building.
---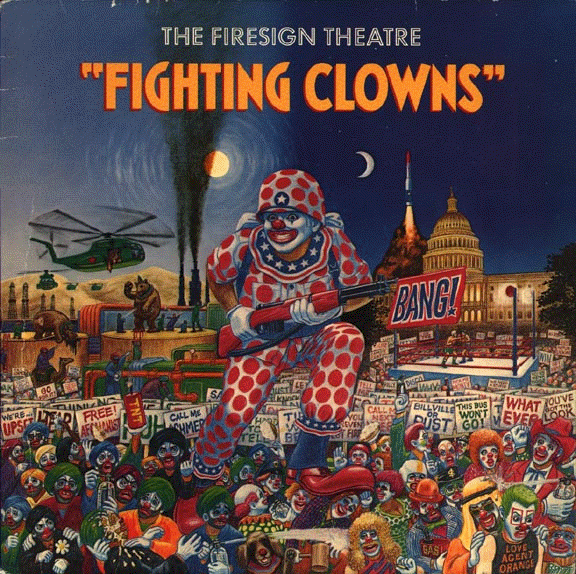 Thanks to Sam Hurt, of Eyebeam fame, for scanning the image.
LM
---